Spectroscopy and Dynamics in Liquid Microjets
Synopsis: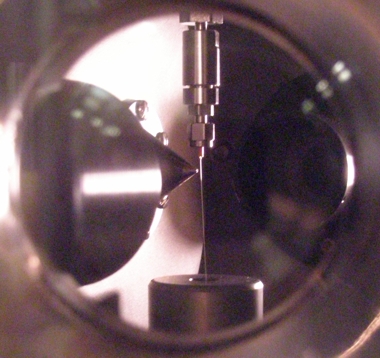 Femtosecond time-resolved photoelectron spectroscopy on liquid microjets (LPES) is used to study the ultrafast dynamics of solutes in high vapor pressure solvents. By monitoring the time-evolving kinetic energy of the detached electron, we are able to record transient lifetimes, solvation timescales, and binding energies of a wide variety of species.
Our current focus is on the photophysics of DNA, In particular, we are interested in providing a molecular-scale understanding of the process by which low energy electrons can cause genetic damage. It is widely accepted that these electrons attach to DNA components to form a transient molecular anion; however, this species has never been observed experimentally.
Many of these states are difficult to observe through traditional femtosecond laser techniques because their binding energies are in excess of 6 eV. To this end, a new setup is currently being built to generate a high harmonic femtosecond probe pulse to be used in LPES experiments. We will employ a semi-infinite gas cell to generate harmonics across a broad energy regime. Stay tuned!
Molecules studied:
Nucleobases, nucleosides, nucleotides
Solvated electrons
Project members:
Recent publications:

♦ "Time-resolved photoelectron spectroscopy of adenosine and adenosine monophosphate photodeactivation dynamics in water microjets" H. L. Williams, B. A. Erickson, D. M. Neumark, J. Chem. Phys. 148, 194303 (2018). pdf
♦ "Isotope effect on hydrated electron relaxation dynamics studied with time-resolved liquid jet photoelectron spectroscopy" M. H. Elkins, H. L. Williams, D. M. Neumark, J. Chem. Phys. 144, 184503 (2016). pdf
♦ "Dynamics of electron solvation in methanol: Excited state relaxation and generation by charge-transfer-to-solvent" M. H. Elkins, H. L. Williams, D. M. Neumark, J. Chem. Phys. 142, 234501 (2015). pdf
♦ "Relaxation mechanism of the hydrated electron" M. H. Elkins, H. L. Williams, A. T. Shreve, D. M. Neumark, Science 342, 1496 (2013). pdf